V
A -
BELT FILTER PRESS
V
A -
Belt Filter Press, Type"
V
A -
BFP"
for continuous dewatering of sludges and slurries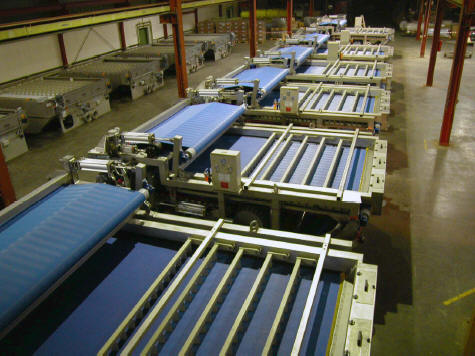 TYPE:
V
A -
BFP-Stainless Steel
V
A -
BELT FILTER PRESS SYSTEMS
WELL PROVEN IN TERMS OF:
TECHNOLOGY

QUALITY

ECONOMY
PROCESS DESCRIPTION:
After the sludge has been efficiently conditioned by the VA - Injector Mixer HPI, it flows onto the proven VA - Belt Filter Press through the new inlet box. Out of the inlet box the sludge is evenly distributed over the entire width of the statical dewatering zone. VA - Shifting Ploughs shift the sludge layer many times and thus substantially improve the filtrate removal. In the following, slightly gradient wedge zone, the sludge is embedded between the two filter belts. Then, the already pre-dewatered sludge is subjected to slight pressure. This procedure gently pretreats the sludge for pressure dewatering. VA - T-Drum's large diameter generates a gentle further pressure build-up. The unique design of the T-drum prevents the dewatered sludge from re-wetting. In the press zone the sludgecake is guided over the press drums through optimized enlacements. The sludge is subjected to consistently higher forming pressure due to decreasing diameters of the drums. The proven configuration of the press section ensures best dewatering results on VA - Belt Filter Presses. For fibre-containing sludges, i.e. in the pulp and paper industry, the belt filter presses are equipped with VA - Press-Nips for highest degree of cake dryness.
TECHNICAL DESCRIPTION:
VA - Belt Filter Presses are well known for their high quality standard. The presses are designed for round-the-clock-operation, 365 days a year. The profile steel frame with high quality surface protection allows operation under difficult circumstances. All pneumatic-tubes and wires are installed in the frame to avoid damage. The roller bearings are specially sealed against moisture. The design of the VA - Belt Filter Press allows easy access to facilitate maintenance. Filter belts can be replaced very quickly and easily.