V
A -
BELT THICKENER
V
A -
Belt Thickener, Type"
V
A -
Fast Drain"
for continuous thickening of sludges and slurries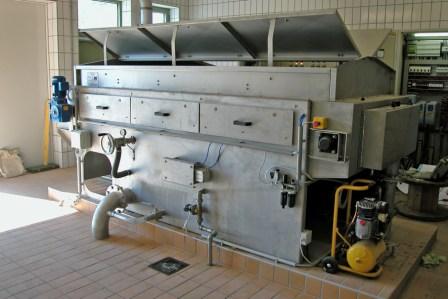 TYPE:
V
A -
FD-STAINLESS STEEL
V
A -
BELT THICKENER SYSTEMS
WELL PROVEN TERMS OF:
TECHNOLOGY

QUALITY

ECONOMY
PROCESS DESCRIPTION:
After the sludge has been conditioned by the VA - Injector Mixer HPI, it flows onto the proven VA - Belt Thickener through the new inlet box. Out of the inlet box the sludge is distributed evenly over the entire width of the filter belt of the VA - Belt Thickener. VA - Shifting Ploughs shift the sludge layer many times and thus substantially improve the filtrate removal. At the end of the thickening zone the already thickened sludge is further compressed by a ramp. Subsequently, the thickened sludge is discharged into a sludge-hopper
Efficient and economical sludge thickening according to the principal of filtration by gravity
High continuous throughput capacity
High thickening performance of 6 - 8 % DS
High solids capture = 98 % - clear filtrate
Economical operation due to low polymer and energy consumption
Fully automatical, easy to service, easy to operate
TECHNICAL DESCRIPTION:
VA - Belt Thickeners are well known for their high quality standard. The thickeners are designed for round the clock operation 365 days a year. The stainless steel frame allows operation under difficult circumstances. The roller bearings are specially sealed agains moisture. The design of the VA - Belt Thickener allows easy access to facilitate maintenance.